1. Log In and Set Up Your Number
Before you can start sending messages through Text Request, you need a verified number with texting capabilities.
You have two options for establishing your Text Request number:
a) get a new, text-only number through Text Request when you set up your account.
b) use your current business number.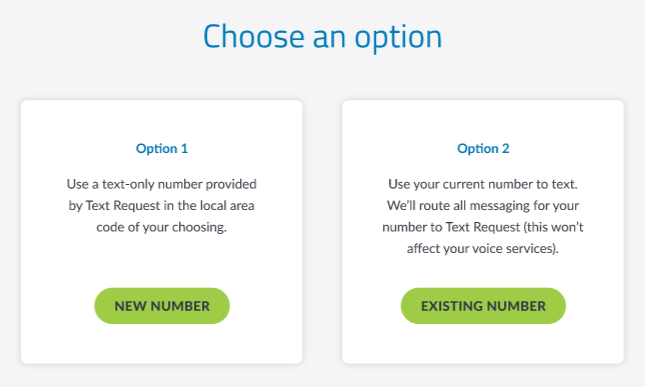 Option 1 - New Number
If you choose to get a number through Text Request, you will receive a provisioned number. A provisioned number will not have an active voice function. It can only send and receive texts and images, which is why we call them text-only numbers. We can also add call forwarding to this number for a fee if you like – just ask.
To receive a new number through Text Request:
1. Select NEW NUMBER.
2. Select the country you're in and enter the area code you'd prefer to use.
3. Click SEARCH.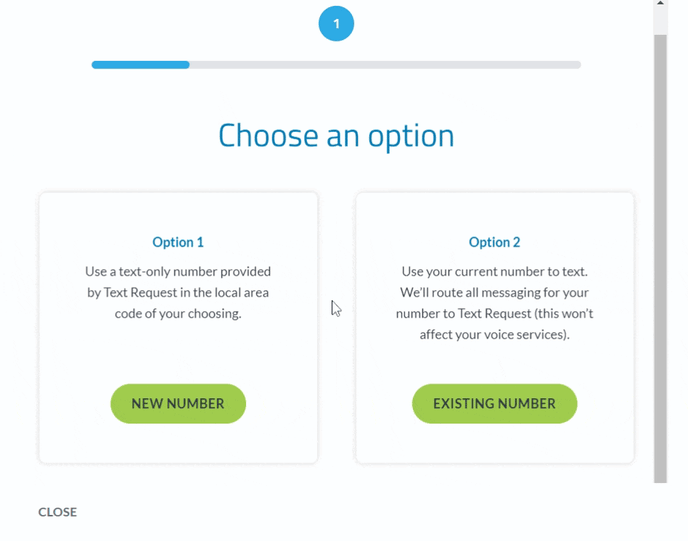 4. Click any of the numbers from the list to select it. If you don't like any of the available numbers, click Refresh List to generate a new list.
5. Click I'LL TAKE IT to confirm the selected number.
Option 2 - Existing Number
If you choose to use your existing business number, it will become an SMS-hosted number. A hosted number is a number that has been given texting abilities by Text Request. Hosted numbers let you route SMS messages through the Text Request dashboard.
As the owner of the number, you have to give us permission to make it SMS-hosted.
To make an existing number SMS-hosted:
1. Select EXISTING NUMBER under Option 2.
2. Enter the phone number you'd like to SMS-host.
3. Click CHECK (this will confirm whether the number can be hosted in Text Request).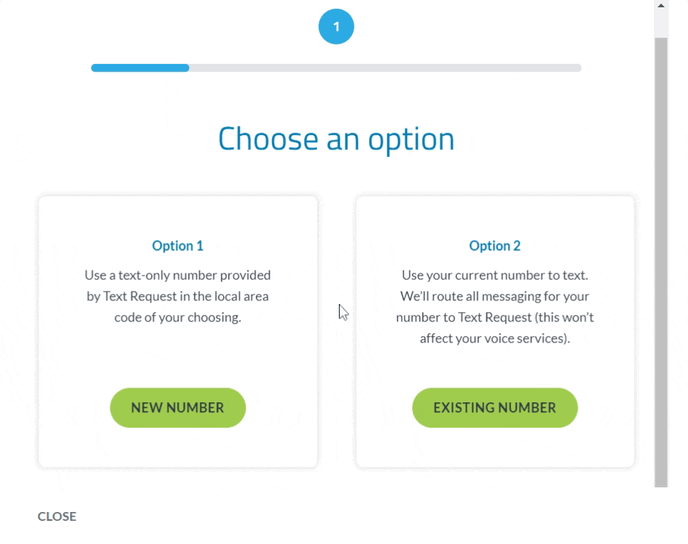 4. Click SET UP if your number is eligible.
5. Complete the Letter of Authorization (LOA) form. If a form does not load, check your email.
This will allow our team to get started on SMS-enabling your number. Your number should be activated that same business day, so check back periodically.
Some VOIPs, such as toll-free lines, don't play nice with permissions. We may need to work directly with your phone company to verify your phone number for SMS hosting. If this happens to be the case, we'll notify you as soon as possible.
2. Complete 10DLC registration
Now that you have your number and users set up, it's time to register for 10DLC.
10DLC stands for "10 digit long code," or standard phone numbers like 423-218-0111. For messages to deliver, carriers require businesses and organizations to register their 10DLC numbers.
To complete your 10DLC registration:
1. Go to Accounts in your navigation menu.
2. Select 10DLC Management from the available options.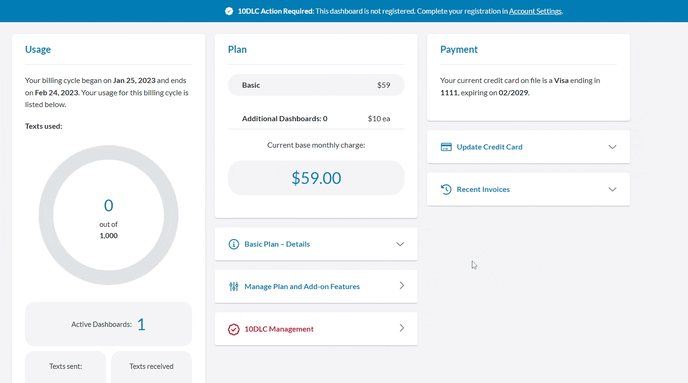 3. Complete the Company – Set Up form.
4. Click Submit and wait for the form to be accepted, this takes about (fill in here)
5. Complete the Use Case – Set Up form. You cannot complete this form until the Company – Set Up form is accepted.
With both forms completed and accepted, you're all set! We'll submit your information immediately, but it usually takes about 5-10 business days for full approval from our connectivity partners. You can send texts during this time period but you may experience a lower throughput and higher filtering until you are fully registered.
3. Add Users
Adding a new Text Request user is quick and easy! Having more than one employee texting will streamline a lot of your processes.
To add a new user:
1. Go to the Users menu.
2. Click the + NEW USER button.

3. Enter the new user's information.
Note: You must use a valid email address. If the email address is invalid, the new user won't receive the email containing their password.
4. Assign the Permission Level. (Manager, CSR, or Administrator).
Manager is the default permission level for all added users, and it's perfect if you want your user to be able to add contacts, create groups, and adjust settings.
CSR is useful if you only want your user to respond to people and send out updates.
Administrator is for users who should have access to billing and account usage details. You are able to have multiple Administrators. Current account Administrators will also see the option to Make this user an administrator by selecting the 'edit' button by the user's name.
4. Import Your Contacts.
Instead of manually entering each of your contacts, Text Request allows you to import entire lists.
Importing contacts to your address book requires a spreadsheet in a CSV (Comma Separated Values) format. Microsoft Excel or Google Spreadsheets tend to work best when creating a CSV.
Phone numbers should be in column A, and any other information you want to import should be in column B and beyond. If you have a CRM contact list, pull these contacts from that list.
Quick Import Example Detailed Import Example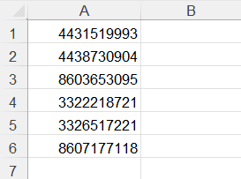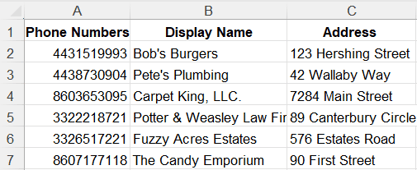 Once your spreadsheet is formatted correctly and saved as a CSV file, import the sheet by going to the Contacts menu in your dashboard. Then click Import under the View Contacts section.

You will then be given the option to select either Quick Import or Detailed Import. Both types of import still require a CSV file, but Quick Import only imports phone numbers. For more information on these two types of imports, visit our Importing Contacts page.
For initial setup, we recommend Detailed Import because it allows you to add information beyond just a phone number for each of your imported contacts.
To import contacts using Detailed Import:
1. Click Detailed Import.
2. Choose the .csv file with the contacts you want to import.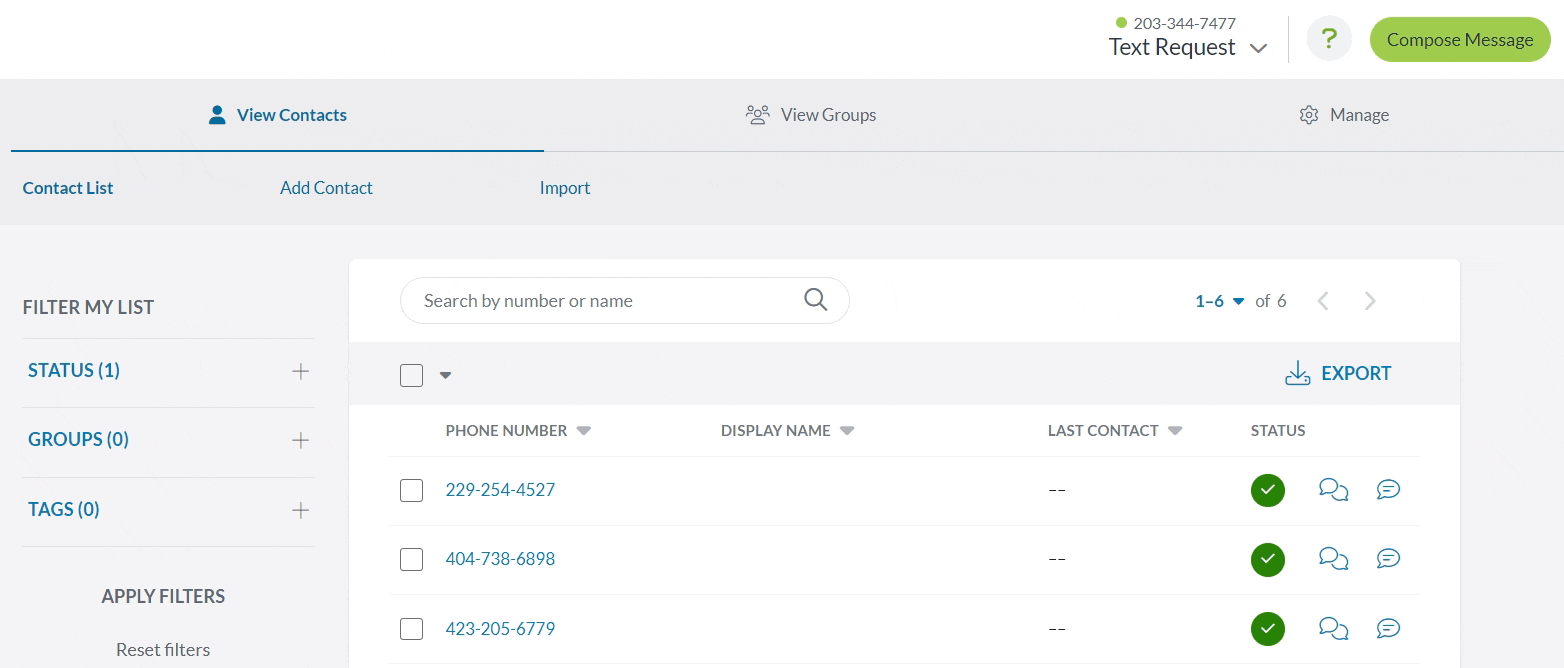 3. Click the Assign dropdown arrows to assign any data points to the Custom Fields you have in Text Request.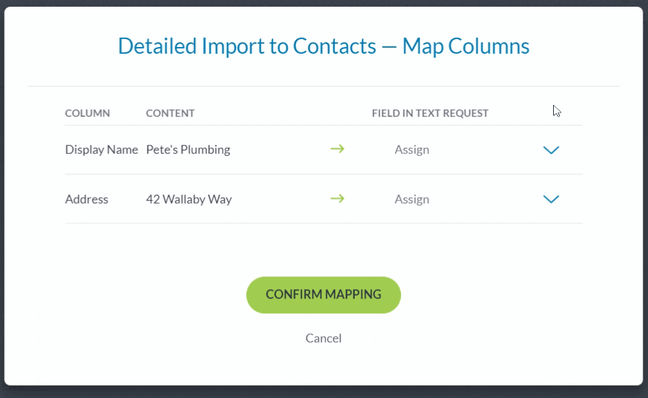 4. Click CONFIRM MAPPING.
5. Choose whether you want to Update Duplicates found within your file or not. You can also add Groups and Contact Tags at this stage.
6. Click Import when you're ready.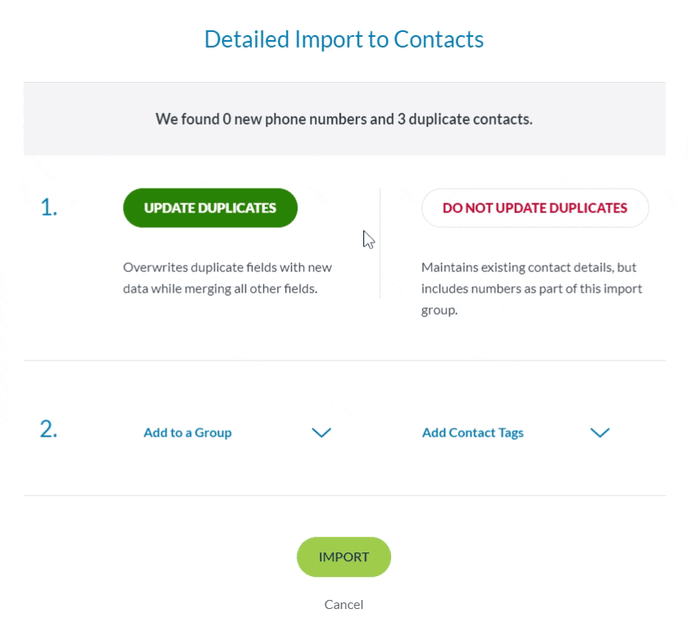 You can further customize your contacts by adding Contact Tags and Custom Fields.
5. Create a Signature
Your contacts want to know who's messaging them. Text Request allows you to create custom signatures that appear at the end of every message, just like email.
Each user can create as many custom signatures as they want. You can have a default signature go out with every message or choose not to include a signature at all. When composing a message, you can also add different signatures to each message.
To create a Signature:
1. Open your User Profile.

2. Click the Edit Profile button.
3. Under the Preferences tab, click the Add Signature button.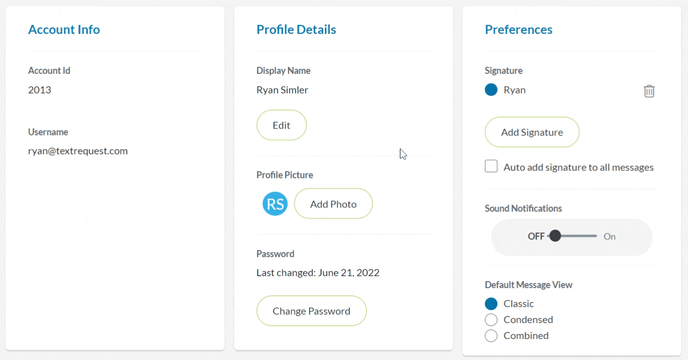 4. Enter whatever you'd like your signature to be.
5. Click Save when you're done.
6. Repeat steps 2-4 until you've created all the signatures you want. You can delete or update these signatures at any time.
7. Click the circle next to the signature you want to set as your default.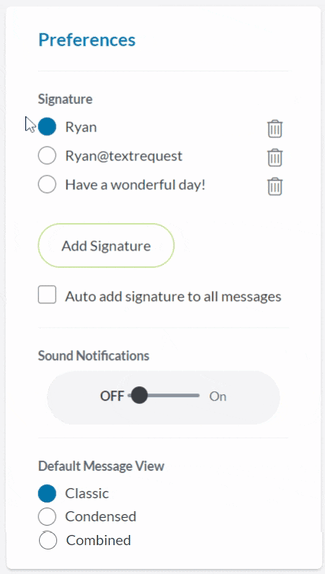 8. Check the Auto Add Signature to All Messages box if you want your default signature included with every message you send.
Now you're ready to Compose your first messages!