Message notifications alert you to new messages on your dashboard, so you never miss a text.
Sound Notifications
With sound notifications on, you will receive alerts on all lines when a new message comes in. You can set the notification to continue to remind you at various intervals until you interact with the message, or only notify you when it first comes in.
Sound notifications work on an individual user basis, so turning your notifications on or off does not affect other users on your account. These notifications will only chime if you're viewing the Queue or have the Queue open in another browser.
Note: Your volume must be on to use Sound Notifications.
To toggle sound notifications on or off:
1. Open your profile & preferences modal.
2. Select Notifications from the list.
3. Toggle the Sound button to On.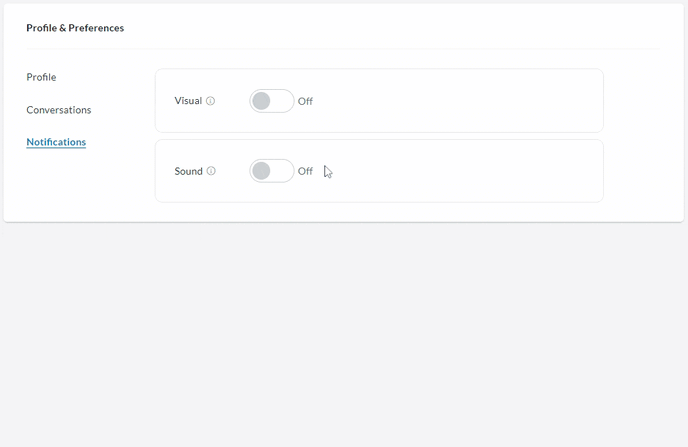 When sound notifications are on, you can adjust how they sound and the frequency they remind you. Currently, we offer four different sounds, which you can test by clicking the speaker icons next to each one.
Selecting a new sound or frequency timer automatically saves your changes, so you can set your preferences and get right back to texting.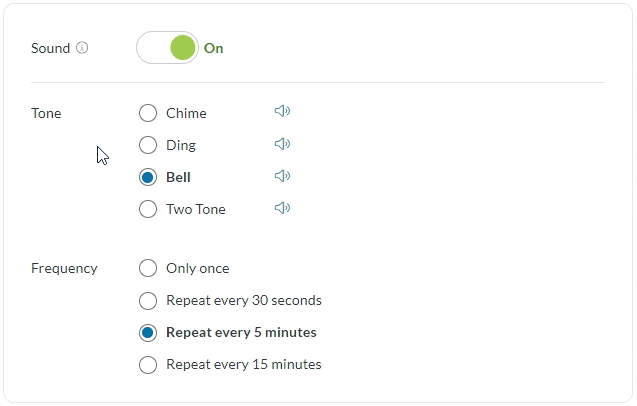 Visual Notifications
Just above the sound notification settings, you have the option to turn on visual notifications. These appear as green circles with the number of new messages on that dashboard in your dashboard selector modal.
With Visual Notifications on, you can choose to either receive notifications for all dashboards or select specific dashboards you want to receive notifications for. Check the box next to the dashboard(s) you want and your preferences are saved automatically.