10DLC stands for "10 digit long code," or standard phone numbers like 123-456-7890. For messages to deliver, carriers require businesses and organizations to register their 10DLC numbers.
To comply with carriers, you need to register your organization (brand) and the use cases (campaigns) you text for. Otherwise, your carrier will start filtering your messages, potentially impacting their delivery.
For more information on what 10DLC is and why registration matters, feel free to visit our 10DLC Registration & Regulations: Your Complete Guide article.
Information Needed for 10DLC Registration
The following list might seem like a lot, but all you need to do is fill out two quick forms and we'll handle the rest.
The 10DLC registration process requires the following information:
Your company's legal name

Your company's country of registration

The type of your organization (private, publicly traded, nonprofit)

Your company's tax number/ID/EIN

Your business's website

Descriptions of each campaign you text for

Sample messages for each campaign you text for

Description of how contacts opt-in to receive your messages
Completing 10DLC Registration
To complete 10DLC registration:
1. Go to Accounts in your navigation menu.
2. Select 10DLC Management from the available options.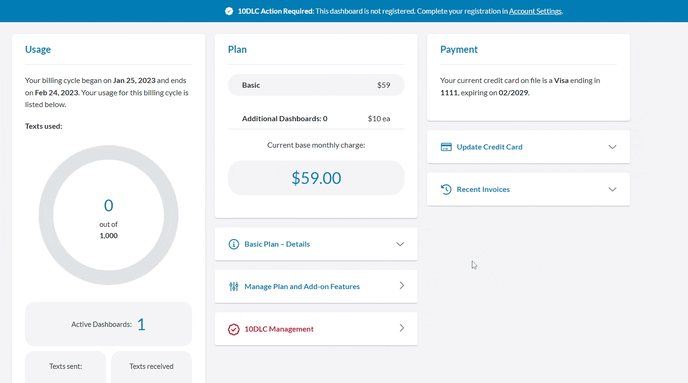 3. Complete the Company – Set Up form.
4. Click Submit and wait for the form to be accepted, this takes about (fill in here)
5. Complete the Use Case – Set Up form. You cannot complete this form until the Company – Set Up form is accepted.
With both forms completed and accepted, you're all set! We'll submit your information immediately, but it usually takes about 5-10 business days for full approval from our connectivity partners. You can send texts during this time period but you may experience a lower throughput and higher filtering until you are fully registered.
You can delete a form at any time by returning to this page and selecting the Delete this company or Delete this Use Case buttons.
Before you send word to the masses, you may want to review our guide on anti-spam recommendations. This will help you keep texting without accidentally triggering a carrier's spam filter.