A group message block contains a permanent record of a group message and its recipients.
Selecting the body of a group message will open its stats, including:
Message progress — The number of sent and delivered messages vs. the total amount of recipients.
Message analytics — The number of messages sent, messages delivered, errors (contacts your message was not delivered to, such as those who had previously opted out), responses, and opt-outs.
Recipients — A list of every recipient's display name, phone number, the time the group message was sent, and delivery status.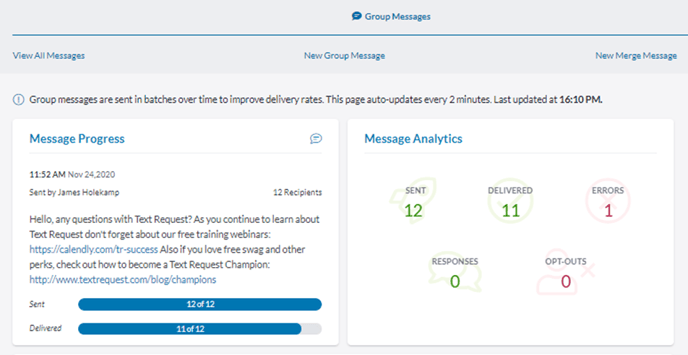 A response is defined as an inbound message from a contact when the last message they received was the group message, and their response came within 24 hours of the group message being sent.
An opt-out is credited to your group message when the group message was the last message received by the contact before opting out (texting STOP), and the contact opts-out within 24 hours of the group message being sent.