Manage website visitor inquiries and conversations from your Text Request Dashboard.
Now that you've set up SMS Chat, it's important to understand how it works and what to expect. The process is relatively simple, but we'll go more in-depth to ensure everything makes sense.
First, a website visitor opens the SMS Chat widget on your website. They compose a message, including identifying information such as their name and phone number. When their message is ready, they hit send and it comes to you.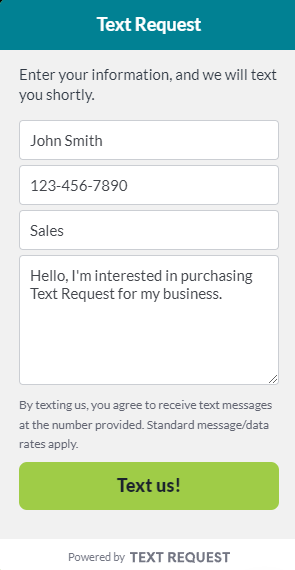 The message then appears in your Text Request Dashboard as a new message. It indicates "From SMS Chat:" and contains the visitor's message along with any information they completed in the widget form.

From there, you can continue messaging through Text Request like any other conversation. Your response is sent directly to the visitor's given phone number, where they can respond back. The SMS Chat widget on your website is used only to send the initial message from the visitor.