Since each dashboard functions as a separate dashboard under your account, users need to be individually added to dashboards.
To add a user to a dashboard:
1. Go to the Users section of your menu
2. Select the Add New User button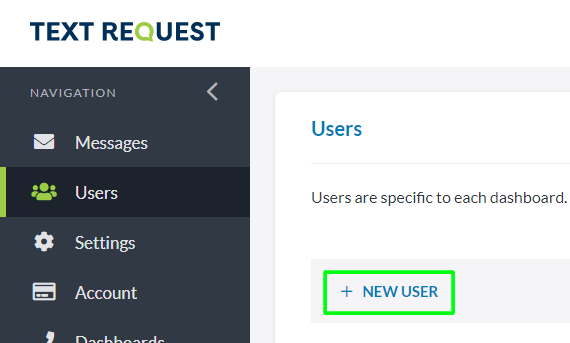 3. Enter the new user's information (note, you must use a valid email address, since the new user's password will be emailed to them)
4. Select their User Permission Level
You can choose between Manager and CSR (Customer Service Representative). Current account Administrators will also see the option to Make this user an administrator.
The new user will be emailed their password, and can login to Text Request at textrequest.com/login using their email and password.
New users will only have access to the dashboard under which they were created. To assign a user to multiple dashboard, you will need to add them as a user under each dashboard.
Users can have different permissions levels between dashboards.