This tool migrates contacts (including opt-outs), groups, templates, messages, users, and notes from a Zipwhip number to a corresponding Text Request dashboard.
Do NOT delete your Zipwhip account until you have completed the steps below.
To use the migration tool:
1. Go to the Integrations menu.
2. Select Get Started inside the Zipwhip Migration Tool box.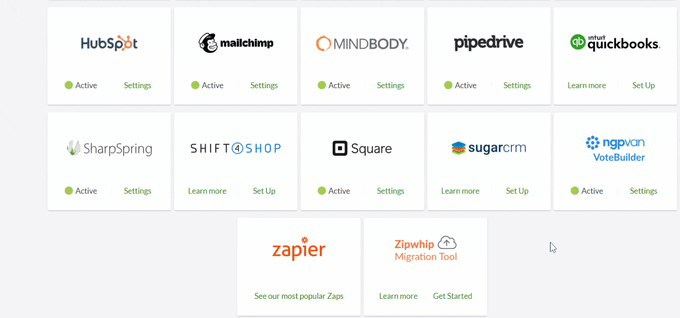 3. Enter your Zipwhip username and password on the new page that opens, then select Start migration.
Be sure to provide your Zipwhip username in this section, and not your email. Your username includes your Zipwhip phone number and looks something like: example@(423) 123-4567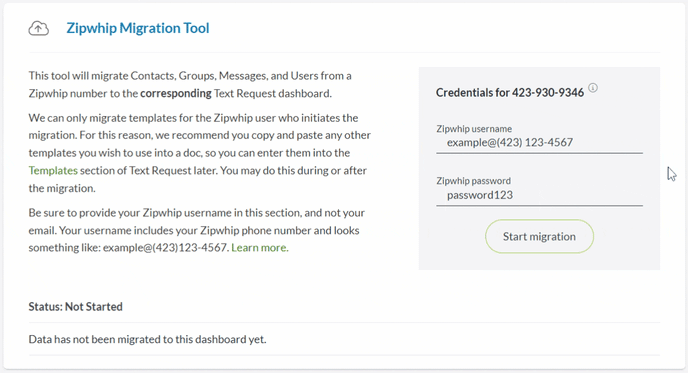 4. Wait for the migration to complete (this may take a few minutes, if you have a lot of messages).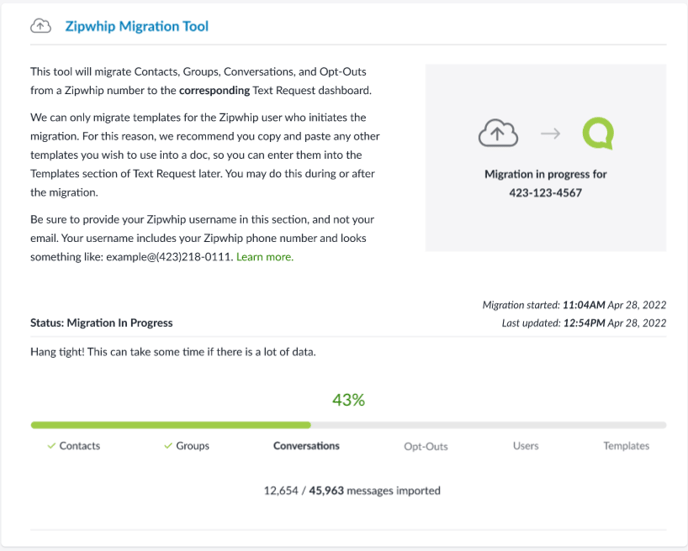 If you have multiple Zipwhip numbers to migrate to Text Request, you will need to follow the steps above for each number.
Once the Migration is complete, you can switch dashboards and repeat the process for a different number. Any contacts (including opt-outs), users, groups, templates, and message history (including attachments) that you previously had associated with your Zipwhip number should be pulled over to your Text Request dashboard.
We can only migrate templates for the Zipwhip user who initiates the migration. For this reason, we recommend you copy and paste any other templates you wish to use into a doc, so you can enter them into the Templates section of Text Request later.
Note that any Admin level users in Zipwhip will become Manager level users in Text Request, while any Operator level users in Zipwhip will become CSR level users in Text Request. If the Zipwhip user did not previously have a last name included, their last name in Text Request will appear as: [Unknown]
Check out our guide on how to edit Text Request user names, so you can add the correct last name, here.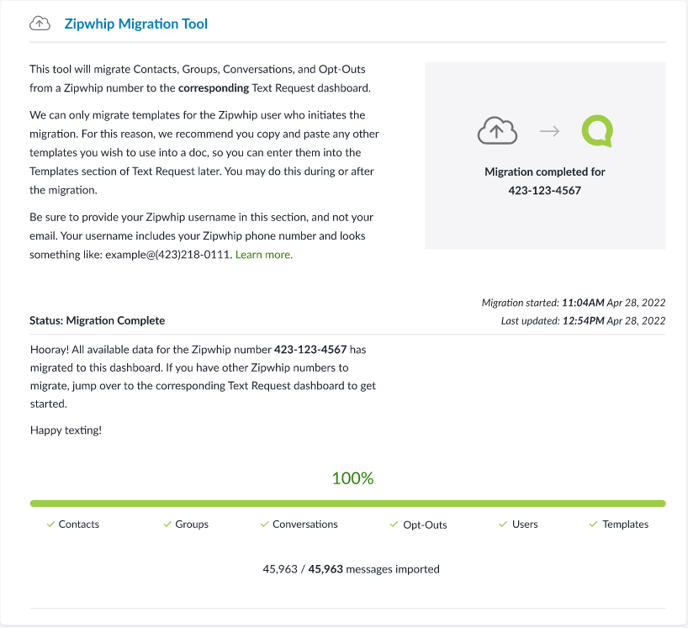 Note that the migration will not include things like webhooks/API keys, signatures, and custom user settings.
Contacts that previously opted out on your Zipwhip account will also appear as opted out in Text Request, and you will be unable to message them as such. Blocked contacts in Zipwhip will be also blocked in Text Request.
Additionally, any notes that previously existed in your Zipwhip account will be added as notes in Text Request. If a contact's birthday, email, or address is stored in Zipwhip, that info will be added as a custom field in Text Request. No other Zipwhip custom field information will be imported over.