Occasionally, someone may try to call your text-only number. With Voice Greeting, callers are met with an automated response informing them they've reached a text-only number. It also gives them a different number to call instead.
Every Text Request text-only number comes with a voice greeting you can turn on or off as you wish.
Note: Voice Greeting only works for text-only numbers. If you have added Text Request to your current business number, Voice Greeting does not apply.
Creating a Voice Greeting
The voice greeting has already been made for you. Fill in your information, then enable the voice greeting and you're good to go.
Here is the message it sends:
"Thank you for calling [Organization Name]. This is a text-only line provided by Text Request. To speak to someone by phone, please call us at [Phone Number You Want People to Call]."
To Enable Voice Greeting:
1. Go to the Settings menu.
2. Click Voice Greeting.
3. Click the toggle to switch to ENABLED. Be aware that this will say ENABLING until you click Save.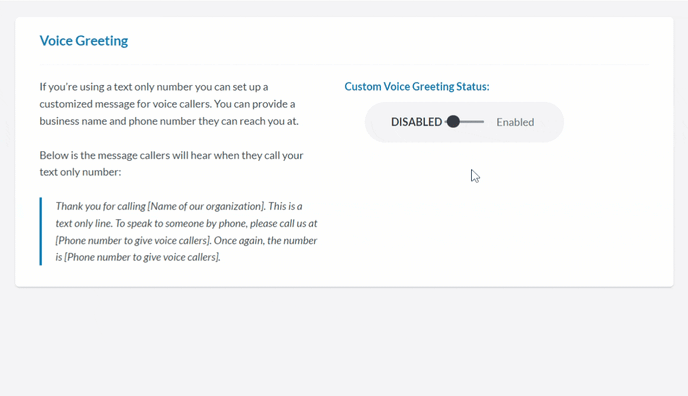 You can turn the voice greeting off anytime by clicking the toggle again to switch to Disabled.
Voice Greeting vs. Call Forwarding
Call Forwarding is an additional service we offer to text-only numbers for $25 a month. When activated, it will forward the text to the correct number.

If you would like to set up call forwarding, text us and we can set it up on our end!