At Text Request, we want to provide the best service possible to all of our users. Whether you have an account issue or a general question, feel free to contact us anytime.
General
If you have an issue that can't be fixed with the assistance of our Help Center guides, then it might be time to reach out to our Support Team. You can quickly get in touch with them through your Text Request account by clicking the help button (?) next to Compose Message and choosing the Text Us! option. This can be done from any dashboard; these messages don't count toward your monthly usage.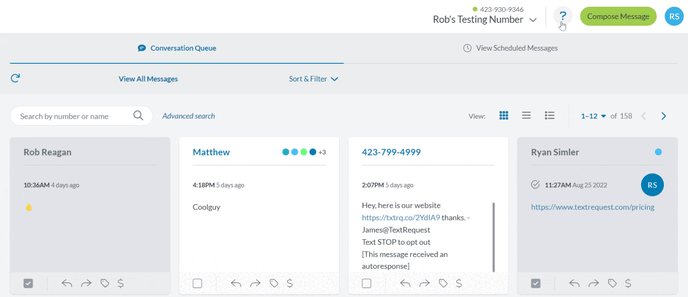 You can also email them at support@textrequest.com
Or shoot them a text at 423-218-0111
Success Team
Whether you're looking to get more out of Text Request, or just need a refresher on how certain features work, our Success Team is more than happy to help. You can contact them to set up one-on-one demonstrations or chat about your current plan, usage, and whether or not a different plan might better suit your needs.
Contact them at success@textrequest.com
Phone Numbers & Hosting
Have an issue with hosting a phone number, or maybe just a general inquiry about how this process works? We're here to walk you through any problems and answer your questions.
Reach out to smshost@textrequest.com
Call Us
If you'd rather talk on the phone with any of our teams, you can find their contact numbers below.
Call 423-218-0111
Ext 3: General Support
Ext 4: Tech Support
Ext 5: Phone Numbers & Hosting