View all the basic information pertaining to an individual contact.
This information includes:


First, Last, and Display Name: In addition to the contact's first and last name, you'll also have the option to pick a display or preferred nickname (This display name can give context to who the contact is. For example, if your contact is in home service business, they may have a display name like "Keaton - 100 Georgetown Dr, 39845.")
Status: Shows whether the contact is active, archived, blocked, or another status
Custom Fields: Allows you to add custom details for each contact, like address or birthday
Contact Tags: Shows who's responsible for the contact
Group Membership: The groups the contact currently belongs to
Notes: Any additional information you'd like to include about the contact
Whenever you add a new contact you'll be able to enter these details, and you can edit a contact's details at any time.
This window also gives you the option to go to the contact's message thread, send them a message, or delete their contact.
To open a contact's details, you just have to select its number.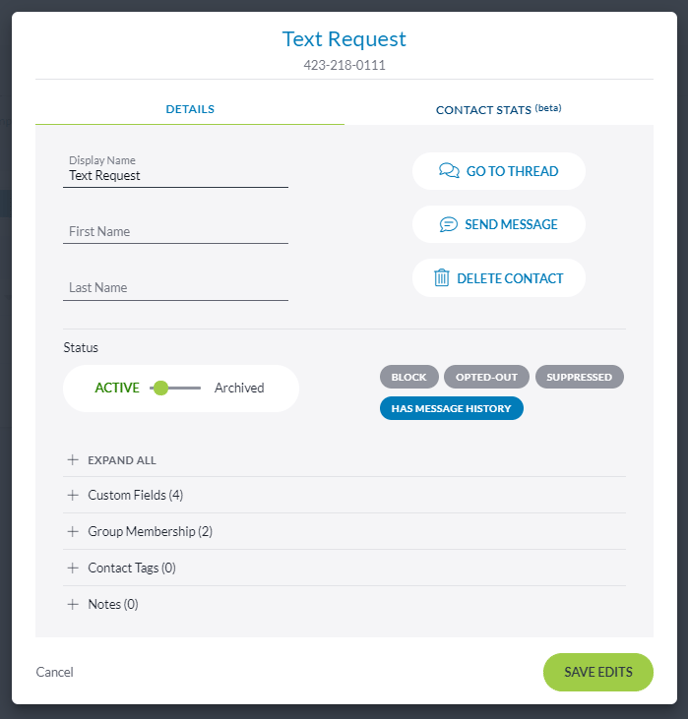 Opening Contact Details
There are a few different ways to access Contact Details.
Option 1 — Contacts Section
1. Go to Contacts in the navigation bar.
2. Find the contact you want to open.
3. Click on that contact's phone number.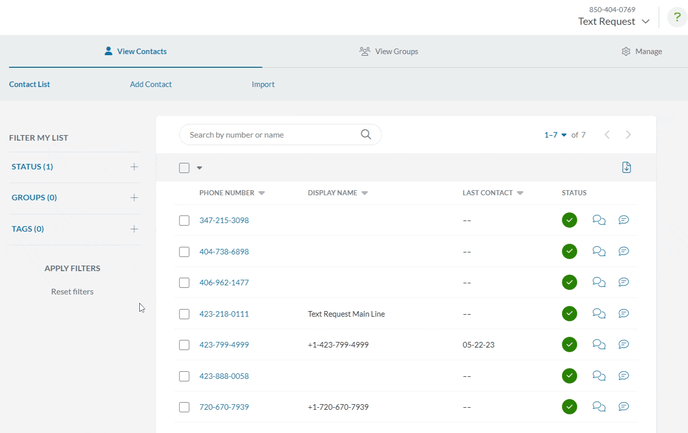 Option 2 — Conversations
1. Go to Conversations in the navigation bar.
2. Find the Conversation with the contact you're looking for.
3. Click on the Contact's Phone Number or Display Name.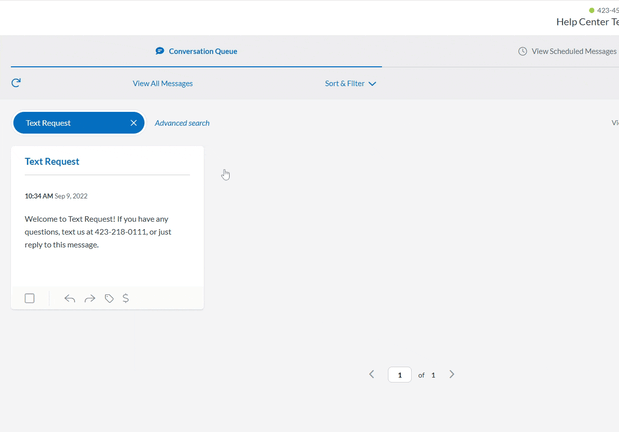 Note: If you're already in a conversation with the contact, you can also select their phone number or display name at the top.
Payments
You can also view a contact's Payments activity through their Contact Details. You can find information such as the contact's Payment Request History, the amount of money they've received, and how many past due requests they've received. You can even request payments directly from the Contact Details!