Autoresponders are a great way to give your customers a timely response even when you're not in the office. When active, the autoresponder automatically sends a reply to all inbound messages.
An autoresponder can be set to one of two states:
a) Scheduled - Runs on any schedule, turning itself on and off based on the time slots you've set up. This is great for regular intervals, like if your team leaves the office every day at 5 pm. Scheduled autoresponders follow the same time zone as the device used to create them or most recently edit them.
b) Manual - Will send 24/7 if the response is active. This is great for specific events, like staff meetings where you just need to step away for an hour, or when the person who normally monitors texts is out sick.
Both typically have a cooldown period of 20 minutes.

How do you create an autoresponse?
You can create as many autoresponses as you want. Just follow these steps, and repeat as needed:
1. Go to the Autoresponder section under your Settings menu.
2. Select + NEW AUTORESPONDER.
3. Enter a name for your autoresponse (this name is for internal use only, so contacts will not see it).
4. Enter your response (it's best to keep it under 160 characters since anything over contributes to your usage).
5. Select either Manual or Scheduled.
6. If scheduling an autoresponse, select which times on which days you want it to run.
7. Select Add Autoresponder to create your new response.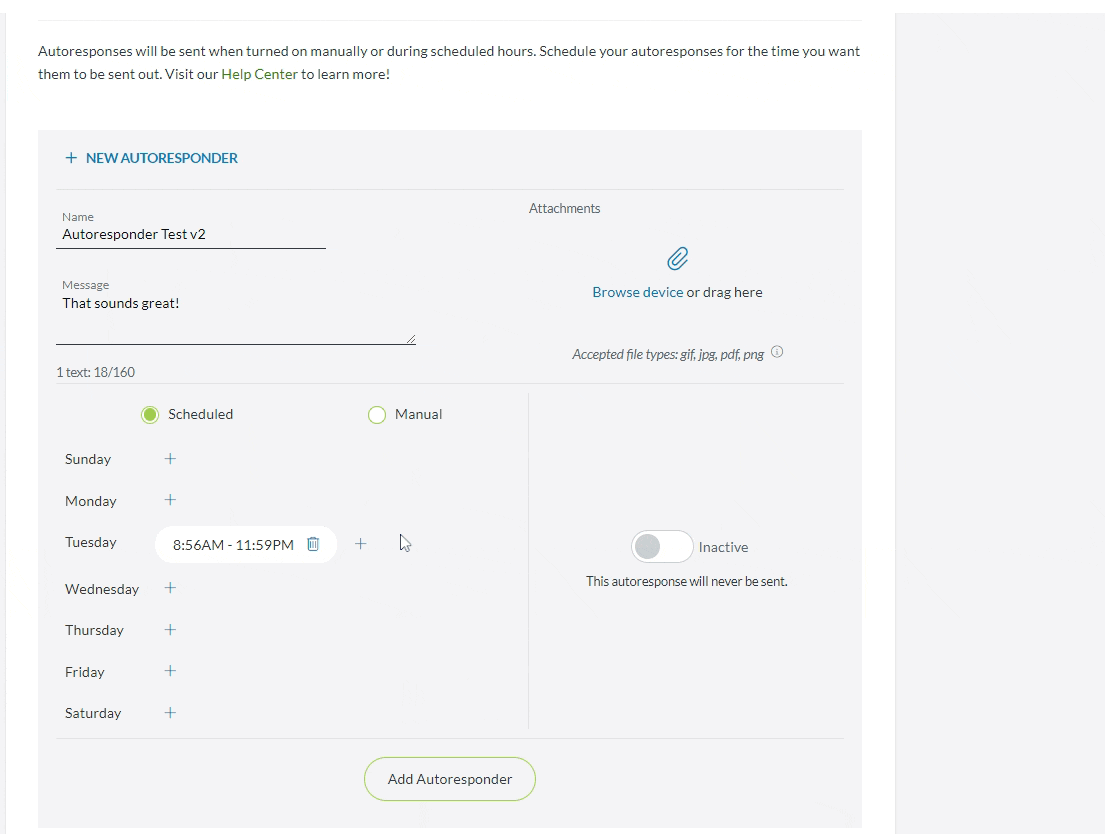 When should you use an autoresponse?
Autoresponder acts as your out-of-office text message. If someone texts you while you're unavailable, the autoresponder sends an instant reply with whatever information you want people to have.
The feature is flexible and can be used for many reasons. We recommend using it when your team isn't able to manually respond to messages quickly, such as after business hours, on weekends, and during staff meetings.
How do you delete an autoresponder?
To delete an autoresponse:
1. Go to the Autoresponder section under your Settings menu.
2. Find the response you wish to delete.
3. Select the Delete button (trash can) to the right of the response name.
4. Click YES, DELETE to confirm the deletion.