You need to have permission from a contact to text them. Here's what we mean by "permission."
There are two types of permission you can legally get for texting customers, expressed or implied consent. You need at least one to protect your business's reputation, which is why we ask you to check that permission box before you send a large group message. These different types of permission apply to your individual messages, as well as your group messages.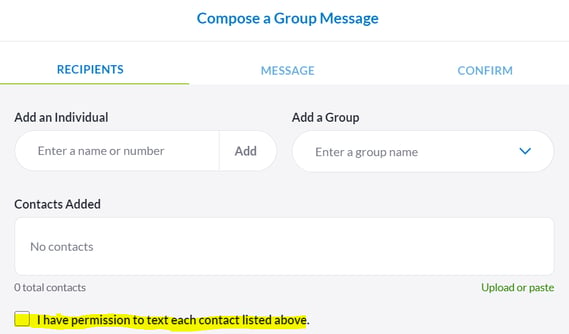 Expressed Consent
A clear agreement where the contact says they're okay with being contacted. This agreement is documented, like when a person fills out a form on your website, adds their name to a signup sheet, buys a product, etc..
Implied Consent
This applies when it's "reasonable to believe" you have permission to contact a person, like when a contact texts you first, includes their number in an email, or gives you their business card with their number.
As a general rule, if someone gives you their contact info, you have "permission" to contact them until they say otherwise.
What happens when the contact says otherwise? Read our Opt Out Messages guide for more details here.